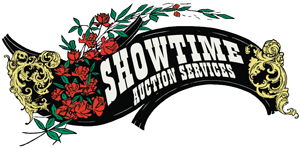 Weekly Auctions of Exceptional Items
Upcoming Auctions
News
Reviews
Past Auctions
Record Results
Upcoming Auctions from Showtime Auction Services
Showtime Auction Services has no upcoming auctions.

Follow this

auctioneer to hear about new auctions.
Bidder Reviews for Showtime Auction Services (110)
8 Latest Top ReviewsSee All
Holly
Roeland Park, Kansas
Top notch best of the best
1st class, all the way,.... shipping providers are the best I've used. Competition should take notice.
Impressive
Never having participated in an on line auction, I could not have had a better experience. Showtime Auctions I have to give you an A +!!
Jeffrey
Wyandotte, Michigan
The absolute BEST of the BEST!
I have been to almost every Showtime Auction, and Mike and Lori are the best in the Investment antiques auctions. They are also some of the nicest people you will ever meet. I highly recommend Showtime Auctions to anyone interested in hard to find investment grade antiques. It don't get no better! Showtime is the king of the mountain!
Daniel
Westport, Connecticut
Thoughtful communication
I had special mailing needs and, with personalcontact with their office, my situation was willingy and suprisingly well handled.... I was most appreciative.
Showtime Auctions/Mike Eckles
I recently made several purchases with Showtime and they did a great job working with me to get my items to me. I am a buyer buying things for myself and my own collections. Unfortunately, I had a couple issues with the items I received and Mike personally made sure everything was handled to "my" satisfaction. Rare customer service. So I just wanted to take a moment to post my review; to make sure that at least from my prospective, this is a great company run by very good people.
News about Showtime Auction Services