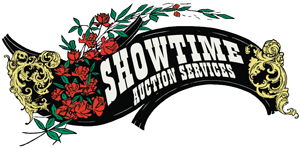 Weekly Auctions of Exceptional Items
Upcoming Auctions
Reviews
Past Auctions
Record Results
Upcoming Auctions from Showtime Auction Services
Showtime Auction Services has no upcoming auctions.

Follow this

auctioneer to hear about new auctions.
Bidder Reviews for Showtime Auction Services (97)
8 Latest ReviewsSee All
Showtime Auctions/Mike Eckles
I recently made several purchases with Showtime and they did a great job working with me to get my items to me. I am a buyer buying things for myself and my own collections. Unfortunately, I had a couple issues with the items I received and Mike personally made sure everything was handled to "my" satisfaction. Rare customer service. So I just wanted to take a moment to post my review; to make sure that at least from my prospective, this is a great company run by very good people.
Tony
Signal Hill, California
They do it all!
They take cards and will pack and ship right from there-Great Job!
Sonia
New York City, New York
My first experience with Showtime Auctions was great. I'll be back!!!
I could not have been happier with my first successful bidding experience with Showtime Auctions. I had inquired about a few items and Mike answered my questions promptly and accurately. I bid on several lots and was successful with three. My invoice arrived right after the auction was over. Arrangements to pick up the items from the shipping and storage facility was easy. The company that handles their shipping and storage was also easy to deal with and very professional. Upon receipt of my items, I was very pleased to find out that they were accurately described and photographed. I was extremely impressed with the quality and quantity of items offered and the speed in which the auction was conducted. I look forward to the next Showtime Auctions. Thank you very much. Thank you for a great experience.
Kathleen
Kalamazoo, Michigan